Working towards getting my first ever 99 in Fishing. Currently at 83, though I will have 84 later today. Here is what my fishing/consumables tab looks like at the moment: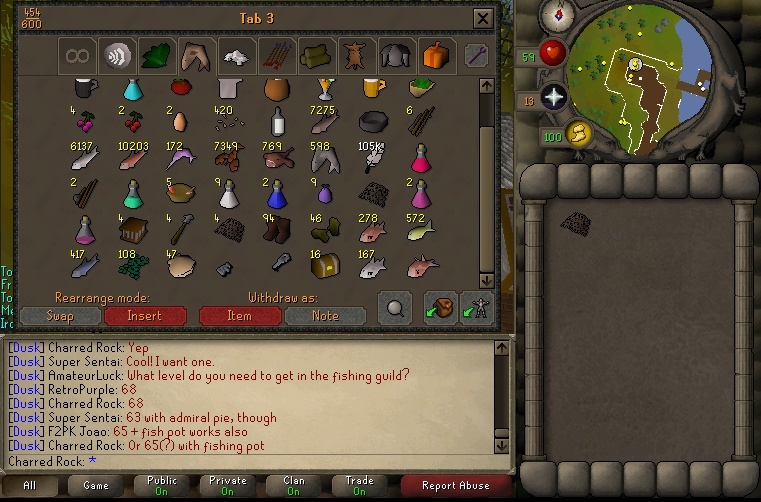 105k feathers
7275 cooked trout
6137 raw trout
10203 raw salmon
172 raw swordfish
7349 raw lobsters
769 raw monkfish
598 raw sharks
97 pairs of boots
49 pairs of gloves
294 raw bass
602 raw mackerel
435 raw cod
114 seaweed
49 oysters
17 caskets (opened one for a tooth half of a key)
167 raw tuna
1 big bass (wall mount for house)
Other -- gains from murdering the man on the pier and randoms:
2 easy clue scrolls for black dagger and black platebody, then iron platelegs (g) and 50 earth runes
5 ranarr weeds
many irits, harralander, guam, tarromin, marrentill, and 55+ unids
3 earth talismans
about 20 rubies and 30 sapphires, a few emeralds, and 10 diamonds
petty cash
feathers
random raws
16k str xp
4k hp xp
5k rc xp (genies and books of knowledge)
500 fishing xp (bob)
6/23 update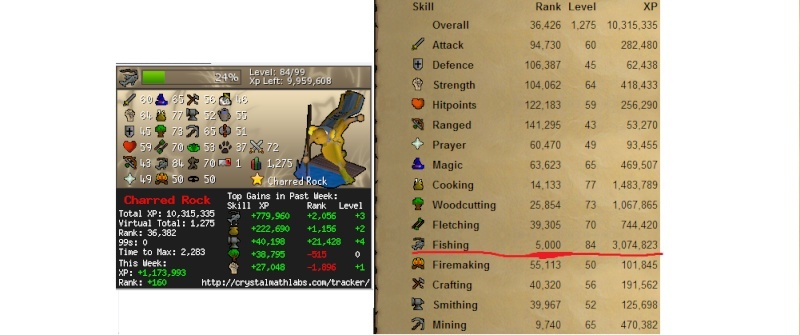 Rank 5k exactly.
Last edited by Rock on Mon Jun 23, 2014 10:53 pm; edited 1 time in total (Reason for editing : Adding progress)